Optimum Nutrition Protein Powder – Is Their Whey And Casein Good?
Introduction
In this post I will be discussing Optimum Nutrition protein powder, namely their gold standard 100% whey and 100% naturally flavoured gold standard casein. I will then conclude whether or not I believe purchasing those products would be beneficial for you. Optimum Nutrition is a very well known and reputable company that sells sports nutrition products to over 90 countries worldwide. They are especially famous for their "gold standard" protein powder. The company has been in business for over 30 years and prides itself on producing high quality products that will provide the maximum benefit to customers in their training. 
Gold Standard 100% Whey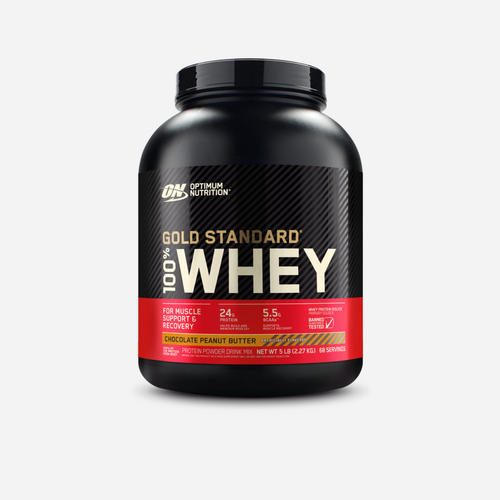 As I mentioned already this is the product that the company is especially known for. Their Gold Standard 100% Whey is one of the most popular protein powders on the market. I have tried this myself in the past and liked the range of flavours that they have in this line. You can choose from flavours like: extreme milk chocolate, double rich chocolate, delicious strawberry, strawberries and cream, french vanilla creme, etc. My personal favourite is extreme milk chocolate, this flavour is very unique and tastes great. 
Each serving contains 24g of whey protein and is primarily whey protein isolate. There is also 5.5g of BCAA's per serving, this helps to improve your recovery further from workouts. Gold Standard whey is also gluten free so it is good for people who have allergies to gluten. 
100% Naturally Flavoured Casein
Casein protein is a more slower releasing protein, it is great for being taken before bed and can help to enhance recovery while you are resting. In this regard, Optimum Nutrition have a 100% naturally flavoured casein protein powder. Similar to the gold standard whey, the casein powder contains 24g of protein (casein) in each serving. There are 4.9g of BCAA's added in each serving for extra recovery and 4.8g of glutamic acid. There are 130 calories per serving and no artificial sweeteners or flavours used. The consistency of the product is thicker than whey protein, so you would need to use more liquid to mix it with than when you are preparing a protein shake. However it mixes very well just like the 100% gold standard whey. There are two flavours to choose from – chocolate creme and french vanilla. So there aren't as many flavours for the naturally flavoured casein as there are with the gold standard whey. 
Benefits And Drawbacks
Now I will go over the benefits and drawbacks of both products. I am going to start with the gold standard whey protein. The main benefits for me of this product are the following:
Mixes very well
Tastes great – I am a big fan of the extreme milk chocolate flavour
Good blend of whey proteins and primarily whey isolate.
Large variety of flavours – there is a flavour that will suit everyone
Extra BCAA's per serving
Gluten free
Reasonably priced for one of the most popular products
The drawbacks of the gold standard whey are very few:
Contains some artificial sweeteners.
For the 100% naturally flavoured casein protein, the main benefits for me are as follows:
Mixes very well
Both the chocolate creme and french vanilla flavours are good – I love Vanilla
No artificial flavours or sweeteners used
Extra BCAA's per serving

Reasonably priced
For the drawbacks there is one more for this product than the gold standard whey. In my view these are the drawbacks:
Not as wide a range of flavours
Taste not quite as good as if there were some artificial sweeteners
It could be argued that there is a trade-off which can be expected when you have a 100% natural product with no artificial flavours or sweeteners as in the natural casein. In the sense that the taste will be compromised slightly. However in my view the flavours Optimum Nutrition picked out for the natural gold standard casein were solid choices.

>> Is Cottage Cheese Cheaper Than Casein Powder?
Would I Recommend These Products?
Now onto whether I would recommend these products. Having examined the products and the pros and cons of each one I would personally recommend them. I am a big fan of the 100% gold standard whey predominantly because I like the fact that there are so many cool flavours to choose from and that a good blend of whey proteins are used for this product. The fact that it is primarily whey isolate is a bonus. I prefer blended whey proteins in general but I do appreciate the large whey isolate component in this blend. The fact that I like the taste, it mixes well and contains extra BCAA's per serving makes this a product that I would highly recommend to others. The price is also reasonable when you consider how well known the gold standard whey is around the world. The fact that the product contains some artificial sweeteners is a slight negative, but this also means that the taste is improved so it is a good tradeoff.
With the 100% naturally flavoured gold standard casein protein, I am not as much of a fan but I would still recommend this product. The only reason I would recommend it is because I like the French vanilla flavour and I like the thickness of this product when you are mixing it with water or milk. The drawback is in the fact that there isn't a wide range of flavours and taste is not quite as good, however because I enjoy the French vanilla flavour so much it is worth it for me. The big bonus with this product is the fact that it is indeed "natural".
Conclusion
To conclude, in this article I have discussed Optimum Nutrition protein powder – Gold Standard Whey and their 100% Naturally Flavoured Gold Standard Casein Protein. I have outlined both products, examined the benefits and drawbacks of them both and shared my own final views on them. I would recommend both products to anyone serious about their training, with a heavier lean towards the gold standard whey. However, if you happen to enjoy vanilla flavours then I would highly recommend the French Vanilla natural casein protein to you as well!
If you have any questions about anything in this article please leave me a comment below. If you have tried either products as well please let me know what you thought of them. As always, enjoy your training and stay safe!