Bar Brothers Workout – The System Review
Introduction
In this article I will be reviewing the calisthenics workout by Bar Brothers. It is called "the system" and is a complete 12 week calisthenics program. The system is designed by Dusan Djolevic and Lazar Novovic.  Bar Brothers have captured massive attention worldwide with their calisthenics workouts and have a very high level of credibility. They are not far away from 1 million followers on Youtube.
What Is The Story Of Dusan And Lazar?
You may be wondering, who are Dusan and Lazar? How did they meet and go on to establish Bar Brothers? 
Well, they met in college through a mutual friend. At the time Dusan was feeling lost in life and lacking motivation. He had no goals and didn't have a clear idea where he was going. After hearing about Lazar and his incredible progress with calisthenics he had to meet him.
They met and Lazar ended up training Dusan and Dusan learnt firsthand about his calisthenics methods. Later the two decided to spread their knowledge and help as many people as possible around the world to obtain impressive physiques through calisthenics. This is how Bar Brothers came to be! They not only aim to transform people physically, but also mentally. 
About The System
"The system" is a 12 week calisthenics program designed to take trainees to very high levels in a short space of time with their calisthenics workouts. It takes a lot of mental fortitude to complete the 12 week program as it is very demanding. However the results are more than worth the effort. 
The tool that is at the corner stone of this program is the good old fashioned pull up bar. Trainees will be performing body weight calisthenics exercises with progressions built in over the 12 weeks. Bodyweight training can yield great results when it is done properly as it activates a lot more stabiliser muscles than traditional weight training movements in the gym.
It is intended for people of all levels from beginner to advanced. The aim of the program is to empower people with the knowledge they need to make serious progression with calisthenics and at the same time provide a supportive community to encourage each other to maximise their results. 
Benefits Of Calisthenics 
There are many benefits that calisthenics offers that make it a great option for many people looking to improve their physiques. I will list these below:
No need for a gym – You can perform the exercises at home using a pull up bar and some dip bars, or in a park. You don't need to go to a gym for calisthenics. This gives you a lot of freedom and also saves you money every year of not having to pay for a gym membership. 
Bodyweight exercises recruit more muscle – Bodyweight exercises are challenging as you are moving your body through space and as such recruiting more stabiliser muscles. 
Lower risk of injury – There is a lower injury risk with calisthenics done with good technique compared to heavy lifting in the gym. 
Joint integrity – In terms of maintaining joint integrity long term, calisthenics can actually be better than weight training in this regard. Calisthenics movements are very natural. 
What You Get In "The System" 
Here is what you will get when you order the system by Bar Brothers:
A 12 week outlined program that describes exactly what you need to do every day with detailed videos. 
Motivational videos every week to keep you motivated and help you to maximise your potential – the program is demanding! 
Simple and concise videos that don't take up too much of your time. 
Private group on Facebook where people post regularly with questions and get the help they need in a supportive community environment. 
Progress tracker so you can follow your progress every step of the way throughout the 12 weeks.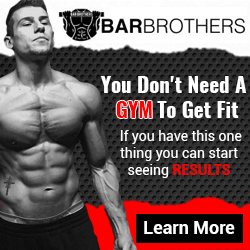 Who Is This Program For?
This is a very important point. This program is only designed for people who are SERIOUS about making calisthenics work for them and deliver amazing progress with committed effort. It is not for lazy people who want results without making any sacrifices.
You should come with an open mind and be prepared to learn a lot about calisthenics. You will definitely be shocked at how effective the program is!
This program is suitable for people of all levels. In particular, if you prefer the freedom that calisthenics gives you over going to the gym then this is for you. If you are a busy professional then this program is definitely for you as it takes up far less time than training at the gym. 
In addition, athletes who want to keep their bodies strong, healthy and aesthetic without putting themselves at undue risk of injuries can really benefit from this calisthenics program. Functional strength and joint integrity are particularly important for athletes as it is the basis for everything they do. 
Conclusion
In this article, I have reviewed "The System" by Bar Brothers. I would say this program is definitely worth investing in if you are serious about committing to a well structured calisthenics program for 12 weeks. You will achieve very good results if you follow through and commit to it. 
Both Dusan and Lazar have transformed their physiques through the principles of calisthenics that they outline and share in the program. It shows that you don't have to be a gym meathead to achieve great results in terms of your physique, functional strength and aesthetics. 
Personally I think the story of Dusan and Lazar is inspirational and is a testament to the fact that fitness can change people's lives. It is great that Bar Brothers have been able to impact so many lives so profoundly through sharing their calisthenics methods. 
If you have any questions about anything in my review, please leave me a comment. I answer all my comments and it is a great way to interact with you. 
Calisthenics is becoming a lot more popular and I believe people need to be open to this training modality. It can reap big rewards and also give you big freedom at the same time.